This post was written in August 2021. Just as I was going to publish it, I received an email from ÖBB stating that due to a railway strike in Germany my night train would be cancelled. Since the rest of the trip has already been booked well in advance, I had to take a plane to Charleroi and a bus to Brussels to catch my Eurostar. Ultimately, I ended up publishing it in April 2022, just as I'm about to leave for a fully train-powered trip to the UK once again.
Before the pandemic started, I planned to use the last months of my then-expiring UK visa and go to England by train. I've completed two train long journeys by that time already, to Brussels and to Belarus and Ukraine, but this would be something quite different, as I wanted to have multiple stops on my way, use night trains where it made sense, and to go through the Channel Tunnel.
The Channel Tunnel fascinated me since my childhood; I first read about it in the Soviet Science and Life magazine (Наука и жизнь) when I was seven. I've never had the chance to use it though, since to board any train going though it I'd first need to get to France, Belgium or the Netherlands, making it significantly more expensive than the cheap €30 Ryanair flights to Stansted.
As the coronavirus spread across the world, all of my travel plans along with plans for a sabbatical had to be cancelled. During 2020, I only managed to go on two weekend trips to Prague and Budapest, followed by a two-weeks holiday on Crete (we returned just a couple of weeks before the infection numbers rose and lockdowns started). I do realise that a lot of people couldn't even have this much because the situation in their countries was much worse — we were lucky to have had at least some travel.
Fast forward to August 2021, I'm fully vaccinated, I — once again — have a UK visa for five years, and the UK finally recognises the EU vaccination passports — yay! I can finally go to Devon to see my mother and sister again. By train, of course.
Compared to my original plan, this journey will be different: about the same or even more expensive than I originally planned, but shorter and with fewer stops on the way. My original plan would be to take multiple trains from Bratislava to France or Belgium and complete this segment of the trip in about three days, enjoying my stay in a couple of cities on the way. Instead, I'm taking a direct NightJet from Vienna to Brussels, not stopping anywhere on the way.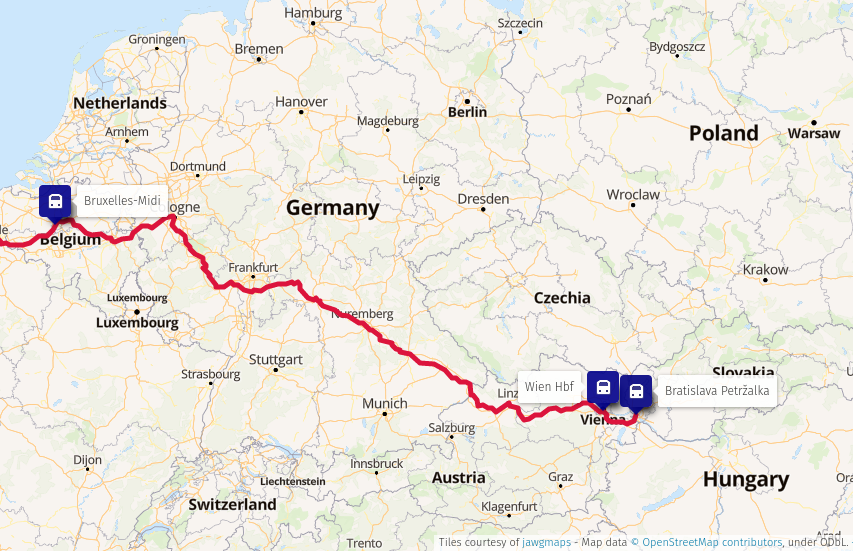 Since I was booking my trip just two weeks ahead, the price of the ticket is not that I hoped for, but much higher: €109 for the ticket itself and €60 for the berth (advance bookings could be about twice as cheap).
Next, to London! Eurostar is still on a very much reduced schedule, running one train only from Amsterdam through Brussels and Lille to London each day. This means, of course, higher ticket prices (I paid about €100 for the ticket) and longer waiting time in Brussels — my sleeper arrives about 10 am, but the Eurostar train is scheduled to depart at 3 pm.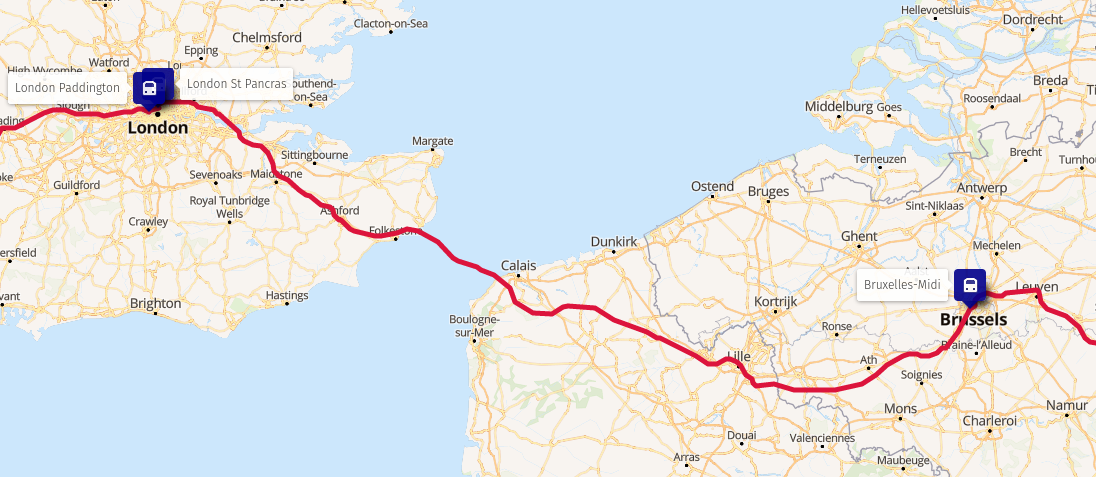 The train makes a stop in Lille, which I initially suspected to be risky as at the time when I booked my tickets, as at the time France was on the amber plus list for the UK, requiring a quarantine upon arrival. However, Eurostar announced that they will assign travellers from Lille to a different carriage to avoid other passengers having to go to quarantine, but recently France was taken off the amber plus list.
The train fare system in the UK is something I don't quite understand, as sometimes split tickets are cheaper, sometimes they're expensive, sometimes prices for the same service at different times can be vastly different, off-peak tickets don't say what exactly off-peak means (very few people in the UK are asked were able to tell me when exactly off-peak hours are). Curiously, transfers between train stations using London Underground services can be included into railway tickets, but some last mile connection like Exeter to Honiton cannot (but this used to be possible). Both GWR.com and TrainLine refused to sell me a single ticket from London to Honiton through Exeter, insisting I split the ticket at Exeter St Davids or take the slower South Western train to Honiton via Salisbury and Yeovil. I ended up buying a £57 ticket from Paddington to Exeter St Davids with the first segment being the London Underground from St Pancras, and a separate £7.70 ticket to Honiton.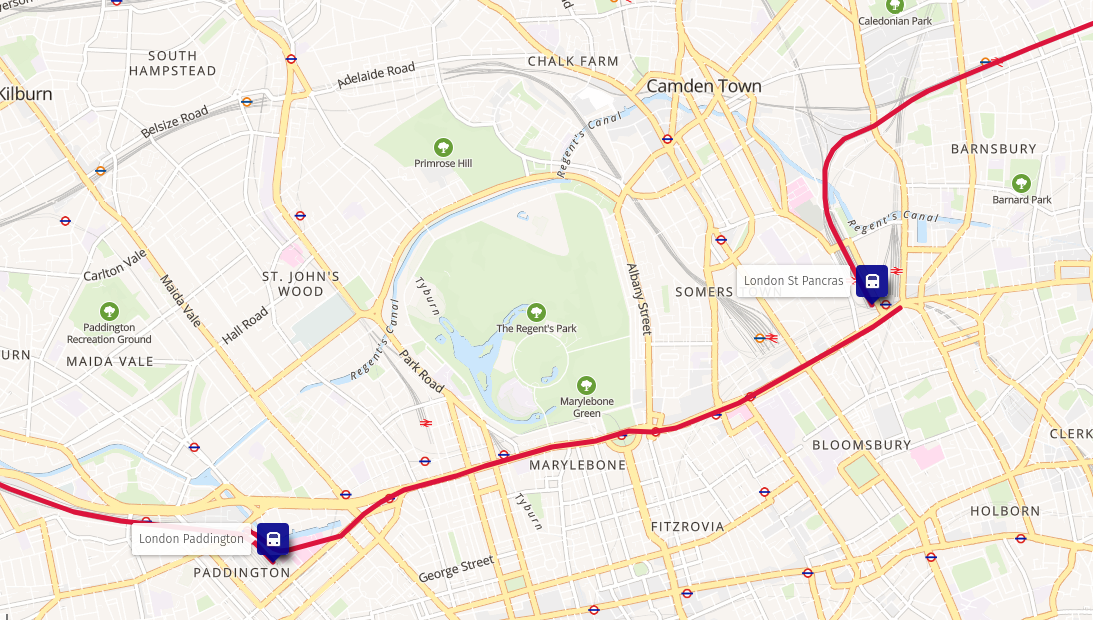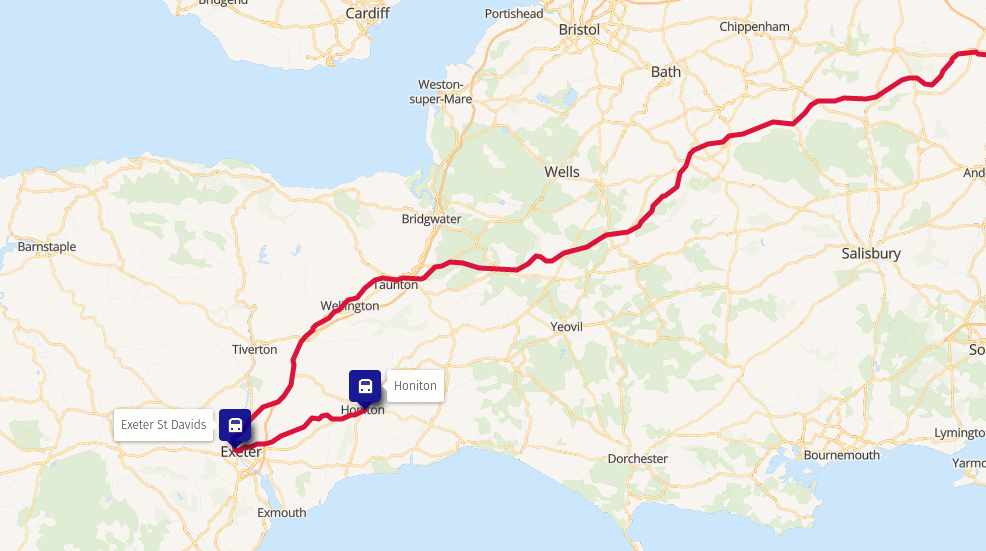 | Date | Station | Arrival | Departure | Train |
| --- | --- | --- | --- | --- |
| 12.8 | Bratislava-Petržalka | | 18:15 | REX 7756 |
| | Wien Hbf | 19:15 | 19:53 | NJ 50490 |
| 13.8 | Bruxelles-Midi | 9:55 | 15:06 | EST 9145 |
| | London St Pancras | 16:03 | 16:34 | TfL |
| | London Paddington | 16:49 | 17:04 | GWR 59231 |
| | Exeter St Davids | 19:19 | 19:25 | SWR 52706 |
| | Honiton | 19:54 | | |
Unfortunately, due to the price of the tickets, I'm taking a £15 Ryanair flight back 🙂
Update after the journey
Since I flew to Charleroi instead of comfortably sleeping in a night train, I had to put up with inconveniences of airports, including cumbersome connections to the nearby cities. The only reasonable way of getting from Charleroi to Brussels is an overcrowded bus which takes almost an hour to arrive. I used to take this bus when I tried to save money on my way to FOSDEM, and I must admit it's not something I missed.
Boarding the Eurostar train went fine, my vaccination passport and Covid test wasn't really checked, just glanced at. The waiting room was a bit of a disappointment, with bars closed and vending machines broken. Since it was underground, I couldn't even see the trains until the very last moment when we were finally allowed on the platform. The train itself, while comfortable, disappointed me with the bistro carriage: standing only, instant coffee, poor selection of food and drinks. I'm glad I bought some food at Carrefour at the Midi station!
When I arrived in Exeter, I soon found out why the system refused to sell me a through ticket: 6 minutes is not enough to change trains at Exeter St Davids! Or, it might have been if I took the right footbridge — but I took the one which led into a very talkative (and slow!) lift. I ended up running to the train just as it closed the doors and departed, leaving me tin Exeter for an hour until. I used this chance and walked to Exeter Central, and had a pint in a conveniently located pub around the corner.
P.S. The maps in this and other posts were created using uMap; the map data come from OpenStreetMap. The train route visualisation was generated with help of the Raildar.fr OSRM instance.